Recipe: Appetizing Salted Brown Butter Butterscotch Bars
Salted Brown Butter Butterscotch Bars. In a small bowl, whisk together the flour, baking soda and salt and set aside. CARAMELS: While the base is baking, combine the unwrapped caramels and heavy whipping cream in a medium sized pot over medium low heat. Once smooth, pour over the cookie bar.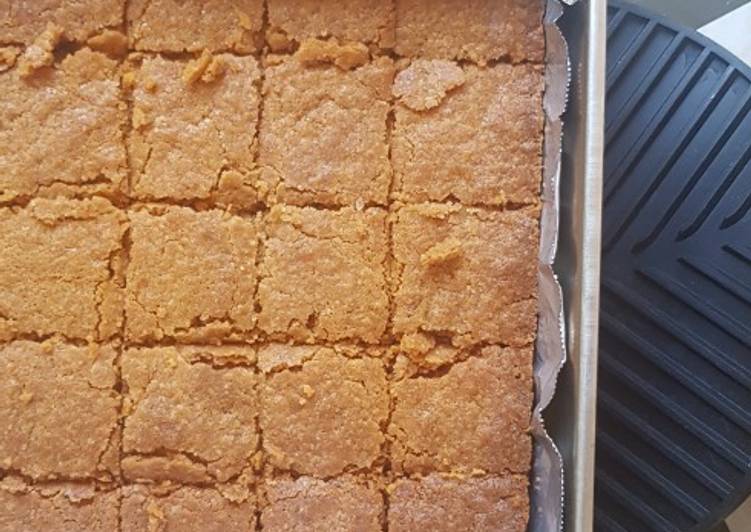 The dreamy brown butter frosting is the perfect addition to the rich butterscotch cake. The whole cake is covered with a salted caramel drizzle. You can't deny the salted caramel and butterscotch flavors in this perfect fall inspired cake. You can have Salted Brown Butter Butterscotch Bars using 10 ingredients and 5 steps. Here is how you cook it.
Ingredients of Salted Brown Butter Butterscotch Bars
It's 250 g of APF.
You need 1 tsp of baking powder.
It's 1/2 tsp of salt.
It's 230 g of unsalted butter, browned.
Prepare 280 g of brown sugar.
Prepare 1 of whole egg plus 1 yolk.
You need 1/2 cup of butterscotch morsels, mine melted in the sun.
You need 2 tsp of vanilla extract.
You need of Salt, for sprinkling on top.
It's 95 g of Walnuts, chopped (optional).
In medium bowl combine flour, baking powder, and salt, and stir to combine. Delicious chewy sugar cookie bars made with brown butter. This adds such amazing flavor and the salted caramel buttercream on top is the best part! They require little effort to make and taste just as amazing with a fraction of the work.
Salted Brown Butter Butterscotch Bars instructions
Mix wet and dry ingredients separately, thrn combine..
Fold in butterscotch chips and walnuts if using..
Evenly spread in prepared 8x8 inch pan. Sprinkle salt..
Bake in preheated 170 degree Celsius oven for 35 minutes, or until a toothpick comes out mostly clean..
Let cool around 10 minutes before cutting. It tastes super delicious but a bit too buttery when still warm..
Brown butter is also another favorite of mine.… Dense and chewy butterscotch blondies are made with brown butter, sea salt, and butterscotch morsels. These sweet and salty bars hit the spot when you need a simple yet satisfying dessert. These innocent little squares boast huge flavor and texture. Add brown sugar, eggs and vanilla to cooled browned butter; mix well. Add flour, baking powder and salt; stir just until combined.