How to Make Perfect Bry's Vegan Sweet Lemon Squares
Bry's Vegan Sweet Lemon Squares. Tangy sweet and wonderfully lemony vegan lemon bars with a shortbread crust and a filling that tastes like lemon meringue pie, minus the meringue. I love lemon flavors when it comes to dessert. The tart flavors really offset the sweetness in a wonderful way.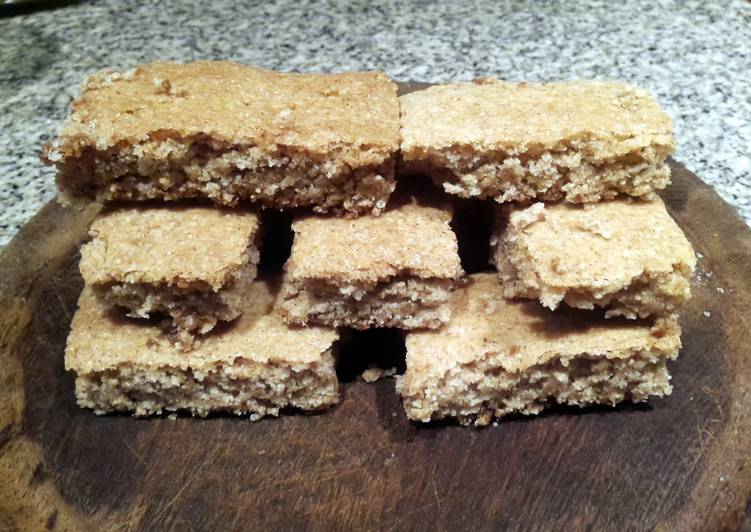 This pretty spring and summer dessert is quick and easy to make. A typical non-vegan lemon bar recipe uses eggs to thicken and colour the lemon layer. Before we talk about these gluten-free and vegan lemon bars, I feel like I need to acknowledge what a whirlwind this last week has been. You can cook Bry's Vegan Sweet Lemon Squares using 10 ingredients and 6 steps. Here is how you cook that.
Ingredients of Bry's Vegan Sweet Lemon Squares
It's 3 cup of fine whole wheat flour.
You need 1 1/2 cup of mascabo sugar (or organic if you don't have tht one).
You need 1 tsp of salt.
It's 5 tsp of baking powder.
It's 1 1/4 cup of water.
It's 1/2 cup of vegetable oil.
You need 1 tsp of vanilla extract.
It's 1 tsp of ground cinnamon.
It's 1 tbsp of lemon skins.
Prepare 2 tbsp of lemon juice.
As I mentioned in my vegan chocolate cake post, things took an unexpected turn for the worse at the end of last week with sudden swelling in my neck which landed me at urgent care, then the emergency room, then an overnight stay at the hospital, and then at. These gluten-free vegan lemon coconut squares are their distant cousins :). Lemon and coconut just go so well together, and I couldn't resist playing around with the lemon curd in more recipes. These Vegan Lemon Bars are a refreshingly tart & sweet dessert!
Bry's Vegan Sweet Lemon Squares instructions
Preheat oven at medium heat..
Mix all together. First the dry ingredients and then add the liquids..
Put in a baking sheet. (Aprox 22x22cm / or 24cm if it's round).
Bake for 20-25 min or till is golden brown..
Cut into squares. Let them cool..
Protect from the air if you are not going to eat it right away. Because it does not have any diary products. It lasts more without refrigerator. That's it!.
Is it just me, or is it that time of year again where we're all just wishing (and semi-impatiently waiting) for it to be Spring? I'm still enjoying my cozy winter meals, but my body is. Thanks to maple syrup and Medjool dates, these creamy, decadent bars are refined-sugar free. I like to keep a stash in the freezer for a zingy afternoon pick-me-up! Easy Vegan Apple Crisp Excellent, everything a true lemon bar should be.