Recipe: Delicious Sugar free carrot dessert
Sugar free carrot dessert. There's chocolate, low-carb, gluten-free, and even keto-friendly options here.. Carrot Cake Oatmeal Cookies Naturally sweetened carrot cake made with pineapple, apple juice concentrate, and carrots, of course! Don't forget about the honey cream cheese frosting.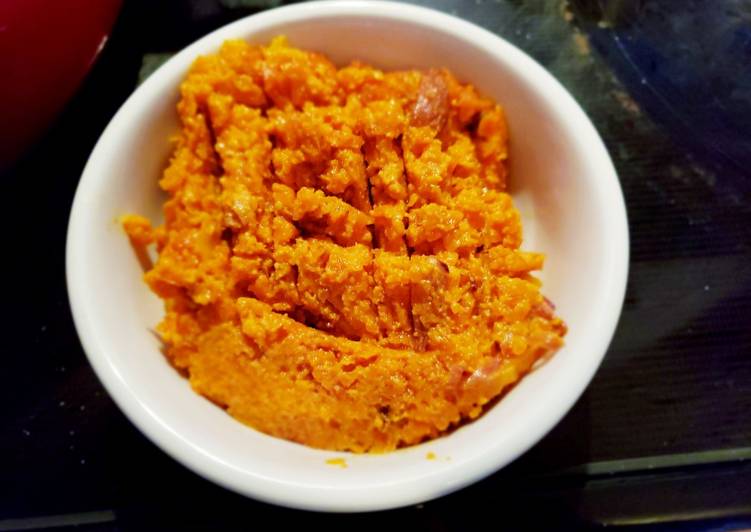 As far as we're concerned, this is the best moist carrot cake recipe in the world. The reason why is that it is an entirely sugar free carrot cake recipe. Not only that, but we've kept it simple, quick and easy, showing that it is possible to make a classic carrot cake with no sugar in just under an hour, with delicious results! You can cook Sugar free carrot dessert using 5 ingredients and 7 steps. Here is how you achieve it.
Ingredients of Sugar free carrot dessert
You need 5 of carrots crumbled thinly.
Prepare 1 cup of soaked almonds or any nuts.
You need Half of kg milk.
It's 1 cup of desi ghee.
It's 1 can of condensed milk.
Whisk the xylitol, eggs and oil together, add the vanilla essence. In a bowl, sift the flour, cinnamon, baking powder and baking soda together and stir into the wet ingredients. This healthy gluten free sugar free carrot cake is a person-who-enjoys-fitness-but-probably-enjoys-eating-dessert-a-whole-lot-mores (which is most likely you. DEFINITELY me) dream in the sense that it's made EXTRA super moist with swirls of protein PACKED Greek yogurt.
Sugar free carrot dessert instructions
First use heavy base nonstick deep pan.
Now add crushed carrots and soak the water.
After look only dry immediately add ghee and roast it.
Now when it start leaving ghee add warm milk and start cooking at medium flame.
Now when carrots look cooked and softened with shiny texture pls add nuts and condensed milk.
Again cook until it look so crunchy and mixed will.
Yummy delicious sugar free dessert is ready.
Low carb keto sugar-free carrot cake with almond flour! With spring just around the corner, it's the perfect time to start thinking about how to make sugar-free carrot cake. It makes such a wonderful spring dessert! Granted, it doesn't exactly feel like spring with the foot of snow (!!) we got last week. But I know the Midwest by now.