How to Cook Appetizing Butterscotch Chip Cookies
Butterscotch Chip Cookies. Browse For Yummy & Hassle-Free Cookie Recipes From Kraft®. Mix together the flour, salt and baking soda in a small bowl, set aside. Cream the sugars and butter together, add the vanilla.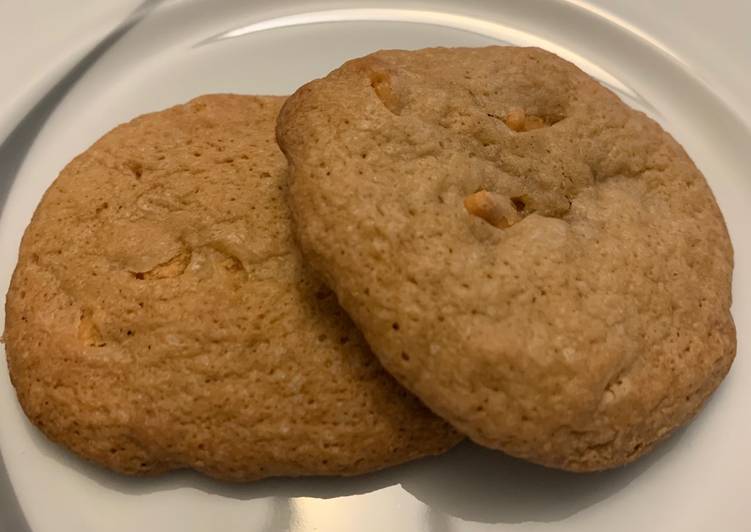 Using parchment paper definitely made it easier. They did stick to the cookie sheet on the first batch. Butterscotch Chip Cookies - These melt in your mouth butterscotch cookies are soft, chewy, and packed full of rich butterscotch chip flavor! You can cook Butterscotch Chip Cookies using 8 ingredients and 10 steps. Here is how you achieve that.
Ingredients of Butterscotch Chip Cookies
You need 1 cup (3 tbsp) of flour.
You need 1/2 tsp of baking soda.
It's 1/2 tsp of salt.
Prepare 1/2 cup of margarine, softened.
Prepare 1/3 cup of sugar.
It's 1/2 tsp of vanilla extract.
You need 1 of large egg.
It's 11 oz. of butterscotch morsels.
I'm gonna go ahead and clear the air here and admit something. I like butterscotch chip cookies better than chocolate chip!! I don't know what it is - that buttery goodness. You don't need a special occasion to make these incredible butterscotch chip cookies.
Butterscotch Chip Cookies instructions
Preheat oven to 375°F.
In a small mixing bowl, combine flour, baking soda, and salt. Set aside..
In a large mixing bowl, beat margarine, brown sugar, sugar, and vanilla extract until creamy..
Beat an egg..
Beat in flour mixture gradually..
Stir in butterscotch morsels..
Use a tablespoon to drop dough onto ungreased cookie sheet..
Bake for eight minutes..
Remove from oven and let cool on the pan for two minutes..
Transfer cookies to wire cookie rack to finish cooling..
Bake them any time you want! They are chewy on the inside and a little crispy on the outside- the PERFECT cookie texture! The butterscotch chips are a fun alternative to chocolate chips. I dare you to find a recipe for a better Best Ever Oatmeal Scotchie Cookie! This recipe yields soft and chewy cookies with addictively crisp outer edges and loads of butterscotch chips in each bite!