How to Prepare Appetizing Low Fat Oreo Cheesecake (Fitness)
Low Fat Oreo Cheesecake (Fitness). Are you looking for a quick and easy recipe? Gently fold into the cheesecake mixture. Evenly pour mixture into the cake pan.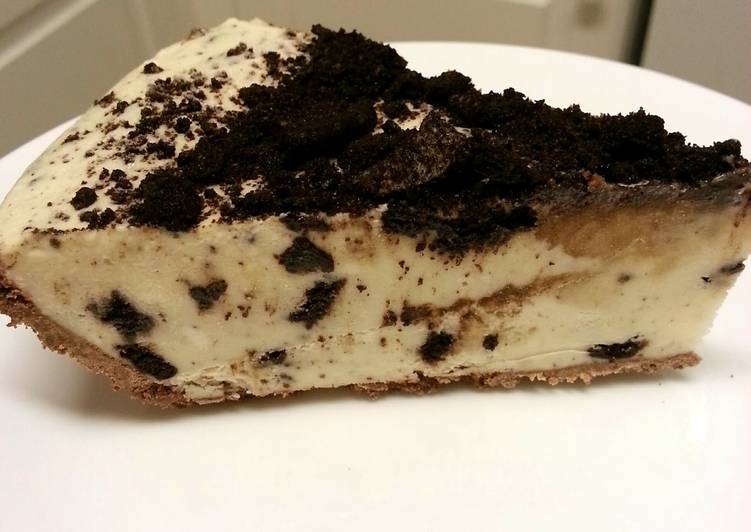 The filling is lightened up by using greek yogurt and light or fat-free cream cheese and a low-calorie sweetener instead of sugar. We used pecans, oats, and coconut oil to make a healthier base. There is nothing quite like this dessert and you won't be able to stop at just having one! You can have Low Fat Oreo Cheesecake (Fitness) using 7 ingredients and 5 steps. Here is how you cook it.
Ingredients of Low Fat Oreo Cheesecake (Fitness)
Prepare 10 of low fat oreos.
You need 2 of 8 oz Fat Free Cream Cheese.
You need 120 grams of Reduced Sugar Condensed Milk.
Prepare 2 of egg whites.
It's 1 of whole egg.
You need 1 tsp of Vanilla Extract.
It's 1 of Graham Chocolate or Oreo Crust.
Then you fold in some Cool Whip (be sure to use low-fat/fat-free or sugar-free, your choice). Combined, the two create a kind of pudding mousse. Melt low-fat spread and mix with crushed biscuits. Pulse the graham crackers in a food processor until crumbled.
Low Fat Oreo Cheesecake (Fitness) step by step
1. Pre Heat Oven at 350° F.
2. Combine wet and dry ingredients except Oreos.
3. Pour oreo cream into mix and gently crush oreo cookies in a ziplock bag.
4. Add oreo crumbles into mixture.
5. Bake for 40-60 mins.
Eventually, I decided to sample one of their indulgent cheesecakes in December a few years later, and as a chocoholic, I skipped straight over the classic plain and vanilla flavors and settled on their Oreo cheesecake: Oreos baked into their classic cheesecake, with a layer of fudge cake below and cookies 'n cream mousse above, finished with. Blend Oreo O's in a food processor or crush in a Ziploc bag until it reaches a flour-like consistency. Add remaining dry donut ingredients to a mixing bowl. Wrap foil around the bottom of the pan to prevent any condensation from dripping into the oven. In a large bowl, stir cream cheese until smooth.