Recipe: Tasty Easy lemon blueberry cheesecake
Easy lemon blueberry cheesecake. Browse For Yummy & Hassle-Free Cheesecake Recipes From Kraft®. The lemon base of this Lemon Blueberry Cheesecake is easily my new favorite lemon cheesecake base. If you've ever made my lemon curd, you'll recall that it's made with egg yolks, no egg whites.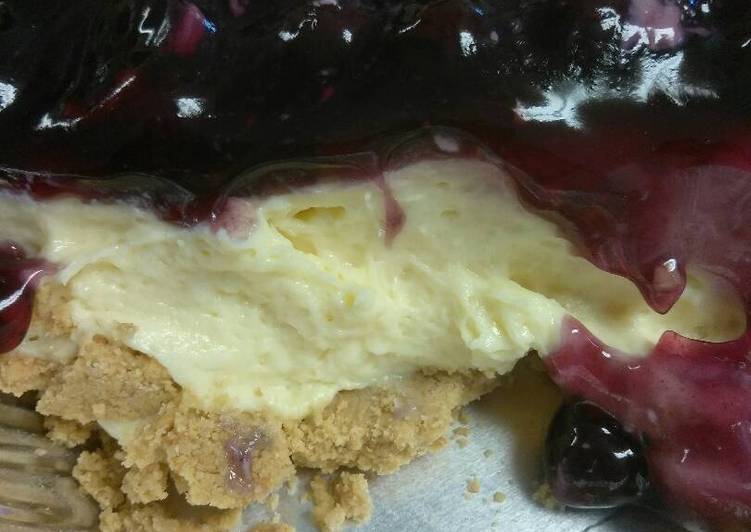 Now, whether you're looking for an easy dessert for weeknight dinners or big get-togethers, friends and family will keep wanting more and more of this delicious. Like make a no-bake lemon blueberry cheesecake, for instance. Consequently, I become an obsessed madwoman making no-bake lemon cheesecake day in and day out until it's perfected, and I can finally sleep without nightmares of bad, bad lemon cheesecakes floating through my mind. You can cook Easy lemon blueberry cheesecake using 6 ingredients and 4 steps. Here is how you cook it.
Ingredients of Easy lemon blueberry cheesecake
It's 1 of large Graham cracker crust.
Prepare 2 (8 oz) of pkg cream cheese.
You need 1 can of lemon pie filling.
Prepare 1 can of blueberry pie filling.
You need 1 can of sweeten condensed milk.
You need 1 tsp of vanilla.
If only I were as singleminded about dejunking closets. This creamy, rich, and easy No Bake Lemon Blueberry Cheesecake is the perfect spring and summertime dessert! Complete with a homemade no bake buttery crust! I have been having thoughts of spring and when I think spring I instantly think lemon!
Easy lemon blueberry cheesecake instructions
Cream cheese needs to be room temperature.
With mixer on medium blend cream cheese until smooth and creamy add lemon pie filling sweetened condensed milk and vanilla mix until well blended.
Put filling into pie crust and add blueberry on top.
Chill at least an hour.
I don't know why but I just do. Cover; process with on-and-off pulses until crumbs form. Wrap springform pan in double layer of heavy-duty aluminum foil to prevent water from leaking in during the baking in a water bath. Combine the graham cracker crumbs, melted butter, and sugar in a medium bowl until well combined. Combine the melted butter, almond flour, sweetener and lemon zest in a medium sized bowl and mix well.