Recipe: Delicious Fruit cheesecake salad
Fruit cheesecake salad. Browse For Yummy & Hassle-Free Cheesecake Recipes From Kraft®. If you are looking for a light, fruity, flavorful food, that will have your family and friends raving about, you need to make this Berry Cheesecake Fruit Salad. I'm loving all of the fresh, juicy berries that are in season right now.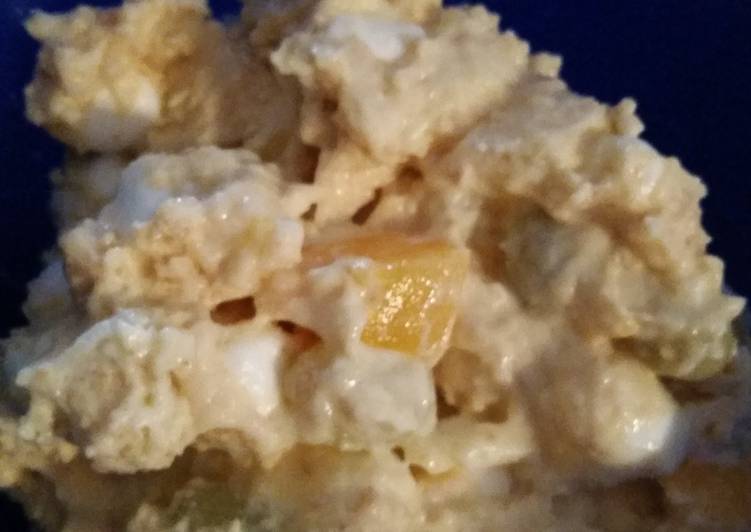 Fresh berries tossed in a cream cheese pudding mixture—it's the perfect side, or crepe filling! Cheesecake Fruit Salad is a classic dessert for a reason! Berry Cheesecake Salad has only the freshest berries combined with a creamy cheesecake fluff. You can have Fruit cheesecake salad using 4 ingredients and 5 steps. Here is how you cook that.
Ingredients of Fruit cheesecake salad
Prepare 1 box of no bake cheesecake.
It's 1 can of Fruit cocktail.
It's 1/2 packages of cool whip.
It's 1/2 packages of mini marshmallows.
This is so amazing and will be the hit of any gathering! Cheesecake and berries makes a perfect combination! This cheesecake salad has a LOT more going on. Mangoes, pineapple, kiwi, strawberries, bananas, blueberries, and mandarin oranges all tossed in a creamy fruit salad sauce.
Fruit cheesecake salad instructions
Mix cheesecake filling according to package.
Fold in cool whip.
Add can drained fruit cocktail.
Add marshmallows.
Add graham cracker crumbs from no bake cheesecake.
The "cheesecake" part of cheesecake salad comes from the sauce consisting of, in this case, cream cheese, sweetened condensed milk, vanilla, and whipping cream. In a large bowl, combine strawberries, oranges, pineapple, kiwi and mango. Add the cheesecake mixture to the fruit. Gently fold cheesecake mixture into fruit. In a small bowl combine the banana coins and the lemon juice.