Recipe: Tasty Baked Cheesecake & Peach Chardonnay Sauce
Baked Cheesecake & Peach Chardonnay Sauce. Browse For Yummy & Hassle-Free Cake & Cupcake Recipes From Kraft®. Cheesecake Recipes Find easy and decadent cheesecake recipes, from creamy, smooth chocolate to light and fresh strawberry, Allrecipes has all your favorites in one place. Blend cream cheese and sugar together (in a food processor or with a medium-speed electric mixer) until smooth; add eggs one at a time, blending well after each addition; add sour cream, lemon juice, and vanilla; blend well; pour filling over the crust and spread evenly.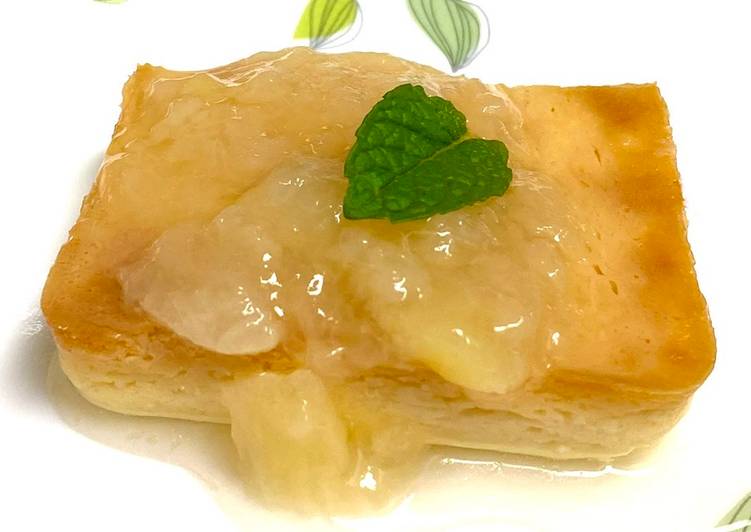 A couple of little but important tips makes this an easy Cheesecake recipe - I think you'll be surprised! Also, don't miss the new Strawberry Cheesecake! This is an easy Cheesecake recipe. You can have Baked Cheesecake & Peach Chardonnay Sauce using 15 ingredients and 17 steps. Here is how you achieve that.
Ingredients of Baked Cheesecake & Peach Chardonnay Sauce
It's of Cake.
It's 400 g (14.10 oz) of Cream cheese.
You need 100 g (3.52 oz) of White sugar.
It's 40 g (1.41 oz) of Cake flour.
It's 4 tsp of Honey.
It's 2 of Eggs.
It's 200 ml (6.76 fl oz) of Heavy cream.
You need 1 of Lemon zest.
It's 40 ml (1.35 fl oz) of Lemon juice.
You need 20 ml (0.67 fl oz) of White Rum.
You need of Sauce.
It's 100 g (3.52 oz) of Peach jam.
You need 100 ml (3.38 fl oz) of Chardonnay.
It's of Topping.
You need to taste of Mint leaves.
Well, I should say, this is a baked cheesecake recipe that's made easy. Since it contains dairy products, your no-bake cheesecake needs to be refrigerated. This recipe can also be stored in the freezer for up to three months. Simply wrap individual slices or the entire cheesecake—without the topping—in plastic wrap or aluminum foil.
Baked Cheesecake & Peach Chardonnay Sauce step by step
Cream cheese at room temperature..
Add white sugar and knead well with a spatula..
Add cake flour and mix well..
Add honey and mix..
Make beaten eggs, add it to the cake mixture and mix well. *The photos are 4 eggs, but add just 2 eggs. That's for 4 trays..
Add heavy cream and mix..
Add lemon zest & juice, white rum, and then mix well..
Pre-heat the oven to 180℃ (356℉)..
Pour the cake mixture into the baking tray. Lightly drop the tray few times to make the surface even. Pour 1/3 water in the grill tray for steam baking..
Bake at 180℃ (356℉) for 25 mins and then 150℃ (302℉) for 20 mins..
Cool it down. Do not touch the cake. It's easy to break..
Wrap with foil and put in the refrigerator..
Put peach jam & chardonnay in a bowl..
Heat at 600W for 3 mins or boil with a pan..
Cool it down and pour into a container. Keep in the refrigerator..
Put a slice of cheesecake on the plate and serve with tasty sauce & fresh mint leaves!.
"Baked Cheesecake & Blueberry Wine Sauce" is also good! Recipe ID : 13303986.
No-Bake Avocado Cheesecake This easy no-bake dessert relies on the smooth, creamy texture of avocado to form a stiff, custardy base — no gelatin required. Lime zest and juice add tang. No Bake Cheesecake, like classic cheesecake, is an amazing make-ahead dessert. It's fantastic for parties or special occasions where you want to impress guests, but not be stuck in the kitchen the day of the event! The cheesecake is done when the outer two to three inches look slightly puffed and set, but the inner circle still jiggles (like Jell-O) when you gently shake the.