Easiest Way to Prepare Perfect Vegan Cornbread Muffins
Vegan Cornbread Muffins. Golden brown and delicious vegan cornbread muffins. Savory and a little sweet, perfectly moist and crumbly and just divine spread with vegan butter. These Vegan Cornbread muffins are a great way to provide them a quick snack that is non-messy and delicious to ensure that they are eaten in a jiffy.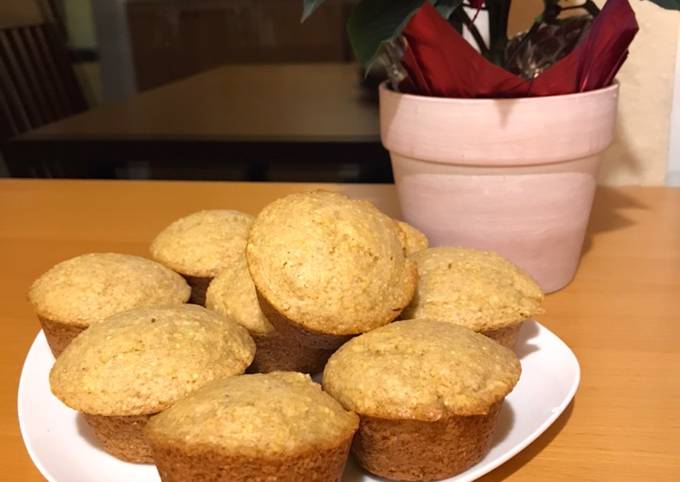 In a separate bowl, combine cornmeal, flour, baking powder, sugar and salt. Add egg mixture, oil and water; stir until smooth. Spoon batter into prepared muffin tins, filling each about halfway. You can have Vegan Cornbread Muffins using 7 ingredients and 6 steps. Here is how you achieve that.
Ingredients of Vegan Cornbread Muffins
You need 1 1/4 cup of all-purpose flour.
You need 1 cup of corn meal.
It's 2/3 cup of sugar.
You need 1 tsp of salt.
It's 1 tbsp of baking powder.
Prepare 1 1/4 cup of oat milk.
You need 1/3 cup of canola oil.
These Vegan Cornbread Muffins are vegan, as the name suggests, but also gluten free, nut free and refined sugar free. What's in these Vegan Cornbread Muffins? Cornmeal (you can use either white or yellow cornmeal) → This is the base of our cornmeal, and you can use either fine ground or coarse. These Gluten-Free Vegan Cornbread Muffins are moist and fluffy, perfectly rich, and have a nutty flavour!
Vegan Cornbread Muffins instructions
Preheat oven to 400 F.
In a large bowl, mix together the flour, corn meal, sugar, salt, and baking powder.
Stir in oat milk and canola oil.
Lightly spray a 3x4 muffin tin with oil.
Evenly spoon out the batter into the muffin tin.
Bake for 20-25 minutes. Use a toothpick to test the muffins. Insert into the center of a few of them and make sure it comes out cleanly.
They're made in one bowl using simple ingredients and are super easy to make. They're also refined sugar free and yeast-free. A great side dish, breakfast, snack or dessert! These Easy Vegan Cornbread Muffins are moist and the perfect savory side dish with Mexican, Irish & Regional Southern meals. Also great at breakfast or a special brunch.