Easiest Way to Prepare Tasty No Bake Peanut Butter Oat Bars
No Bake Peanut Butter Oat Bars. I have to be super careful when cooking for my daughter because of food sensitivities, so I make these no-bake peanut butter oatmeal bars with certified gluten-free oats. Use all natural/organic ingredients, if you prefer, for a healthier version! Either way, this oatmeal bar recipe is easy, delicious, and the best snack or dessert.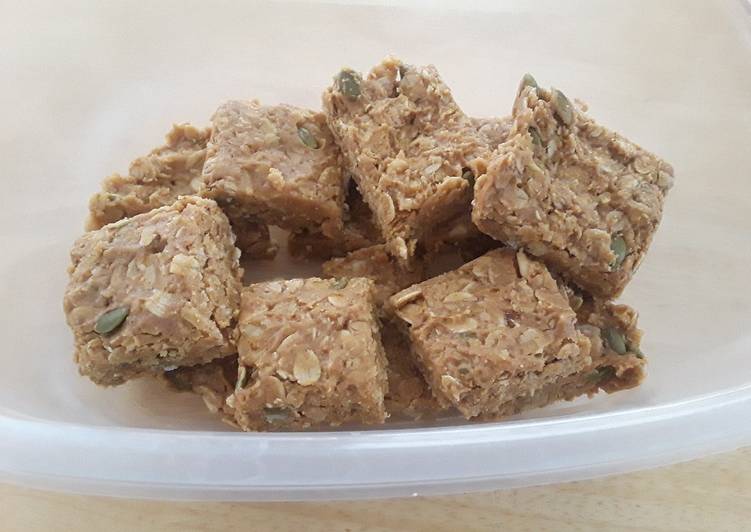 Quick and easy recipe These No Bake Peanut Butter Oat Bars could have been ridiculously healthy. The base is made of melted peanut butter and a bit of coconut oil, plus plenty of jumbo oats for chewy deliciousness. Tips for Making No Bake Peanut Butter Oatmeal Bars. You can cook No Bake Peanut Butter Oat Bars using 4 ingredients and 2 steps. Here is how you cook it.
Ingredients of No Bake Peanut Butter Oat Bars
Prepare 1 1/4 cup of old fashioned rolled oats.
Prepare 1 cup of all natural peanut butter.
It's 1/3 cup of pure maple syrup.
You need 1/2 cup of mix-ins of choice: we like walnuts & pumpkin seeds.
Choose an all natural peanut butter with no added sugar or salt. Be sure to stir your peanut butter before measuring. It should be loose and pourable. I recommend cutting them into small squares.
No Bake Peanut Butter Oat Bars step by step
Line a 8x8" pan with parchment paper and set it aside. Mix all the ingredients together in a large bowl. Turn out the mixture into the prepared pan and flatten it down evenly. Pop it in the fridge to firm up for a couple of hours, then cut them into square bars..
That's it! Store them covered in the fridge for 5-7 days or freeze them if you want them to last even longer..
Make the Peanut Butter Oat Bars: In a medium, microwave-safe bowl (large enough to add oats later), add peanut butter and maple syrup. These no bake peanut butter oatmeal bars are like oatmeal raisin cookies, except healthy enough to eat for breakfast! (So more like a bowl of oatmeal, in grab-and-go form!) Just as convenient as store-bought breakfast bars, but made with clean, wholesome ingredients. Ok people, I know I said that these no-bake peanut butter bars were my favorite Christmas cookies of all time…but they have some stiff competition here. These No-Bake Chocolate Peanut Butter Oat Bars might just be my new faves. These bars are yummy and easy to make as a naturally sweet treat or snack, but still a pretty healthy recipe too.