How to Make Yummy Snack Bars
Snack Bars. Don't Deny Your Cravings, Eat Them! Challenge Your Tastebuds with a Tempting Variety of Savory & Timeless Flavors. Made with Real Ingredients Food that's both Delicious & Convenient.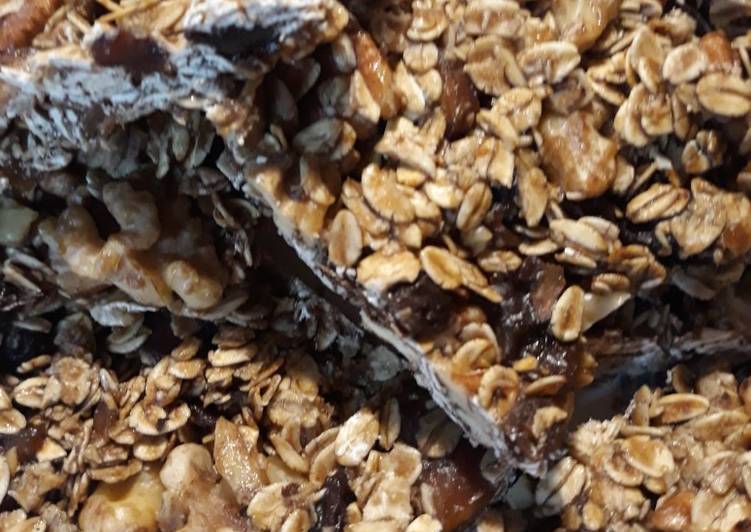 And don't even get us started on how crowded the marketplace is: you could spend hours in the supermarket assessing your snack. Kashi® Soft Baked Breakfast Bars, Mixed Berry. Kashi® Soft Baked Breakfast Bars, Ripe Strawberry. You can have Snack Bars using 15 ingredients and 5 steps. Here is how you achieve it.
Ingredients of Snack Bars
You need of Oat mixture.
It's 3 cups of rolled oats.
It's 1 cup of chopped dates.
It's 1 cup of pecans.
Prepare 1/2 cup of raisins.
You need 1 cup of walnuts.
You need of Sugar mixture.
Prepare 1/3 cup of fig preserves.
It's 1 stick of butter.
It's 1 cup of loose packed brown sugar.
Prepare 1 teaspoon of vanilla extract.
You need 1/4 cup of honey.
It's 1 tablespoon of dark chocolate cocoa powder unsweetened.
Prepare 1 teaspoon of ground cinnamon.
You need 1/4 teaspoon of kosher salt.
Kashi GO® Dark Chocolate + Almonds + Sea Salt Protein Bar. Kashi GO® Crunchy Peanuts + Peanut Butter Protein Bar. These homemade granola bars--loaded with oats, almonds, peanut butter, and chocolate chips--are the perfect alternative to store-bought granola bars, which can be loaded with added sugars. These bars are a good choice for a filling low calorie snack.
Snack Bars step by step
In a pan toast the oats and nuts. Set aside..
In a pot melt the honey, butter, cinnamon, sugar, salt, vanilla, and chocolate. When these ingredients are incorporated it will be ready..
Mix the oats, dates, raisins, and nuts..
Mix the oat mixture with the sugar mixture. Spray a big pan with nonstick spray. Press the warm bar mixture onto the pan. Make sure to get this equal. I sprayed the bottom of the spatula to press the mixture down hard..
Let cool and cut into bars. I put into the freezer for 2 hours then cut it. I wrapped the extra in waxed paper. Can be frozen. I hope you enjoy!!.
They contain zero added sugar and get their sweetness from fruits like dates and apples. These come packaged as two bars per serving. Like trail mix all stuck together, these gluten-free bars have all the crunch you want in a simple, satisfying snack. Satisfy your sweet craving with the crispy, creamy Wafer Bar. Made with light and crispy whole grain wafers, layers of creamy peanut butter and topped with crunchy granola.