Recipe: Perfect Only 2-ingredients ice cream
Only 2-ingredients ice cream. Mango Kulfi is an Indian style No Cook No Churn Mango Ice cream which is Eggless, creamy and enriched with fresh mangoes. The healthy ice cream craze has been in full effect for a few years now, and it doesn't seem to be slowing down. Different varieties are marketed as everything from low-calorie to low-carb to low-sugar, but one thing's consistent: the pints are always pretty pricey.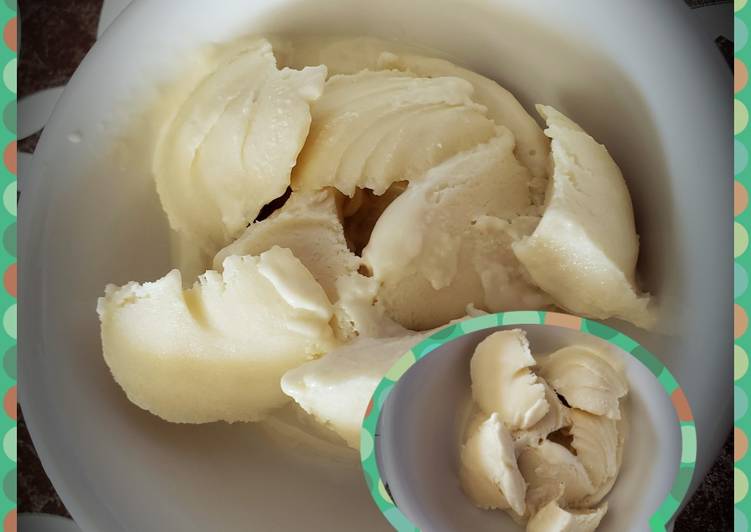 Heavy Whipping Cream is found in the United States, and also it is called Whipping/Double Cream in Britain, Slagroom within the Netherlands, as well as Whipped. Did you even know that was possible? Our goal is to create a safe and engaging place for users to connect over interests and passions. You can cook Only 2-ingredients ice cream using 2 ingredients and 7 steps. Here is how you cook that.
Ingredients of Only 2-ingredients ice cream
It's 3 lb of milk whole.
It's 4 cup of half and half cream.
In order to improve our community. With only ice cream and self-rising flour, this recipe bakes up into a moist and tender cake-like bread with a subtle sweetness. No churning and no ice cream machine needed. Say hello to your favorite new summer treat!
Only 2-ingredients ice cream step by step
Just take a boil of milk.
Stir it until it change its color and look thick creamy.
Stir milk at very low flame for almost 1 hour.
Just in the end add half and half.
Stir for 30 minutes again.
Yummy vanilla icecream is ready just with two ingredients without much sugar.
Optional you can add nuts.
Things might get pretty simple sometimes but sometimes that's just what a person needs. Two Ingredients: Whipped Cream and Sweetened Condensed Milk All you need to make this ice cream is a few cups of heavy cream and a can of sweetened condensed milk (not to be confused with evaporated milk). Whip the cream, fold it into the sweetened condensed milk, freeze for a few hours, and sweet ice cream bliss is yours. To make this ice cream, I first froze a few bananas. I peeled them, cut them in half, and put them in a ziploc bag.